10 Hada Labo Products That Are Great For The Skin
In recent times, skincare has become a pretty broad topic. It doesn't help that many skincare products are lining the shelves of cosmetic stores.
It's easy to get confused on what to use and even how to use them. People with susceptible skin are always in a dilemma deciding on what skincare products to use because a bit of shift can cause considerable damage, sometimes irreversible.
Let's not even begin to talk about how most beauty products would lead you to break a bank. Quite frankly, your skin deserves all the care you can give because healthy and glowing skin is like a mirror that reflects your body system. 
That's why you're advised to drink water, get enough rest, and wash your face often. It's best you also eat enough fruits alongside using excellent skincare products that are suitable for your skin.
Speaking about skincare products, many companies have been working pretty hard in seeing that their customers get the best out of their skin through their products.
Two of such companies are the Rohto Pharmaceutical Co, Japan, and the Mentholatum Company, USA
These two companies came together to birth the Hada Labo Skincare Line- one of the best skincare lines one can find.
The unique thing about the Hada Labo Products is that they are produced by technology specially invented for the sole purpose of making over-the-counter (OTC) drugs.
That means that the products are manufactured in a pharmaceutical environment. It is a no-brainer that the process is carried out under strict GMP guidelines. So, you know their skincare products come with significant effects, good quality, and reliability.
The two companies that formed the Hada Labo Skincare line have produced quality products for over 100 years. However, the Hada Labo Skincare Line was first introduced in Japan in 2004. It was welcomed with open arms and, ever since, has proved to be effective.
Skincare lines have been known to have different products for the different parts of the body, and Hada Labo has quite a variety of effective products. But if you're asking why you need to use good skincare products such as the ones from Hada Labo, well, keep reading.
Importance Of Using The Right Skin Care Products For The Skin
We've mentioned earlier that your skin is the reflection of your system. It can also be a reflection of the skincare products you use.
Different products have different functions. For starters, there's sunscreen to prevent UV rays from the sun, face wash for cleansing your face, body lotions and creams for moisturizing your skin and adding a smooth texture and a clear, glowing color, etc.
The real deal is in getting these products from reputable companies such as Hada Labo.
Then, rest assured that the products are of high quality and that components are most likely designed to work alongside themselves to achieve a particular result.
Also, it's easier to pay close attention to your skin's acceptance of the products if they're from the same company.
You know which ones to switch to and easily trace results. Let's take you through some of the importance of using the right skincare products.
The Ingredients Are Often Right
Quality skin care products are all about using their ingredients in the right amounts. Of course, a usually cheaper option would claim they use the same types of ingredients.
But you'd come to find out that even when they use the same ingredients as they claim, they are often diluted or of lower quality. It is especially obvious when compared to those used in quality skincare products.
There's an understanding that there are cases where "buying a brand" comes into play. Still, it would be best if you got something that works rather than risk your skin's health for a more affordable option.
The Marketing Terms Are Honest
We often come across beauty products that say "paraben-free," "fragrance-free," or 0% hydroquinone, etc.
While it's excellent for products that do not contain these substances, it's not proof that every bottle that has it written on them is free of these substances.
But you can be assured that with quality products, no one will mislead you as they would state the exact ingredients and the amount they appear in the product.
You Only Get To Use The Needed Amount
When a product is made with the right amount of ingredients, you're sure of what to expect with a certain quantity of the product after use.
With quality ingredients, there would be no need to use many products before achieving your results.
Unlike most random products, you'd have to use more products because the ingredients have either been diluted or are not of high quality.
Now that you've gained knowledge on the importance of using quality skincare products, what comes next?
We will be letting you in on ten of the Hada Labo best face wash products that are undoubtedly suitable for your sensitive skin.
We aim to offer some help for your skin's health with this guide. Here are Hada Labo face wash reviews:
10 Best Face Wash Cleanser For Sensitive Skin
1. HADA LABO AHA+BHA Face Wash 130ml
Texture: thick cream
Skin concern 
Suitable for sensitive skin

Visible results after three weeks.

Not ideal for dry skin
Benefits
Exfoliates gently

Deeply cleanses

Removes dead skin cells

Removes blackheads

Purifies pores

Polish a rough and dull skin

Protects skin from environmental pollution

Controls acne

Removes dirt and impurities
Features
Hada Labo facial cleanser

Double action exfoliating formula

Mineral oil triple anti-pollution formula

Zero fragrance

Wild pansy extract

Bentonite clay

Alcohol
Tips: Take the right amount on a wet hand, add little water to form a rich lather. Then apply on the face in a circular motion and rinse off with water. 
For exfoliation, leave for a minute or two. 
Buy HADA LABO AHA+BHA Face Wash here 
2. HADA LABO AHA+BHA Face Wash Oil Control 130ml
Texture: ultra-fine foam (Hada Labo cleansing foam) 
Skin concern: Suitable for all skin types
Benefits:
Exfoliates the skin

Refines and smoothens the skin texture

Eliminates whiteheads, excess oils, and blackheads
Features:
AHA and BHA that acts as keratin softening agents

Alpine plant

Willow herb extracts

Natural volcanic mineral mud

Hyaluronic Acid
Tips: Add the correct quantity to a slightly wet hand, add a little water to form a rich lather. Then, apply in a circular motion on the face and rinse off with water. 
Buy HADA LABO AHA+BHA Face Wash Oil Control Here
3. HADA LABO AHA+BHA Foaming Wash 160ml
Texture: Soft and light foamy texture 
Skin concern:
Suitable for sensitive skin

Low irritation
Benefits:
Reduces the ability of polluted particles latching onto the skin

Protects and purifies the skin against pollution in the environment

Polishes rough and dull skin

Deeply cleanses to remove blackheads from pores

Forms a protective barrier against pollutants

Gently takes out dead skin cells
Features: BHA and AHA 
Tips: Keep away from direct heat and sunlight 
Buy HADA LABO AHA+BHA Foaming Wash here
4. Hada Labo Softening & Whitening Face Wash (100g) New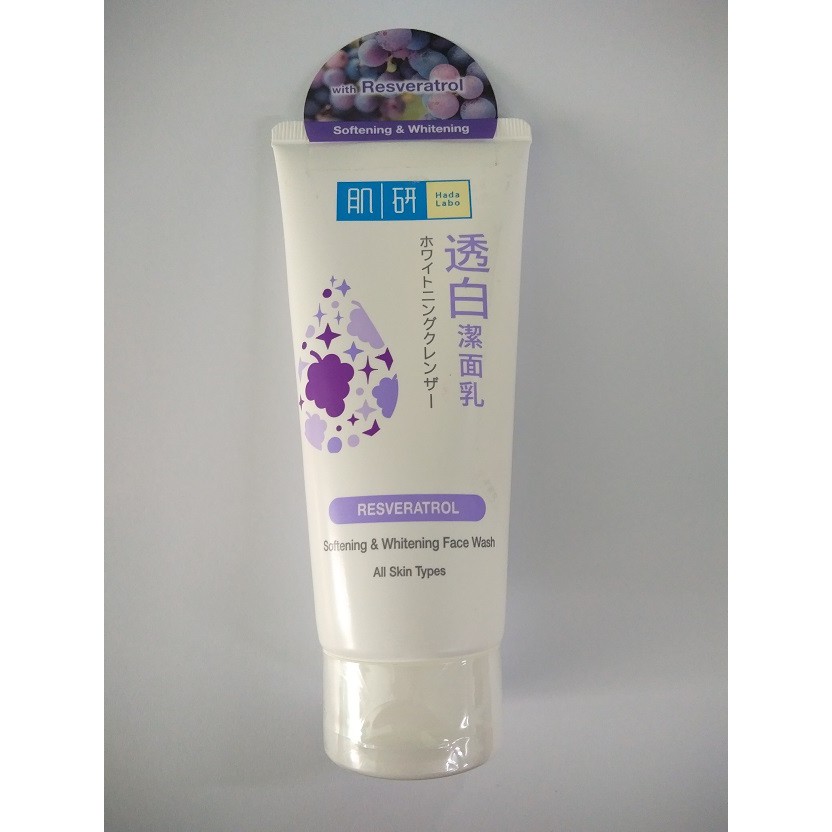 Texture: creamy texture face wash

Skin concern: For all skin types
Benefits:
Evens skin texture

Brightens skin

Hydrates

Enhances skin fairness
Features:
Hydrolyzed sesame extract

Resveratrol

Hyaluronic acid
Tips to use:

Use lukewarm water to dampen your skin

Using a circular motion, massage the cream into your skin

Rinse out with water

Clean your face with a clean cloth

To see if your skin would react, apply

first on a small part of your face and leave for 48 hours.
5. Hada Labo Blemish & Oil Control Hydrating Foaming Wash 160ml Texture: dense and ultra-fine foam
Skin concern:
Suitable for all skin types

Low irritation 
Benefits
Fights blemishes effectively

Restores oil and water balance for a healthy skin

Soothes redness

Calms skin irritation

Washes away impurities, oil, and dirt
Features:
Hyaluronic Acid

Chamomile flower

Hatomugi

Bishop's weed
6. Hada Labo Super Hyaluronic Acid Hydrating Foaming Wash 160ml
Texture: light and soft foamy texture
Skin concern:
Suitable for sensitive skin

Low irritation 
Benefits:
Intensely hydrates skin

Leaves skin supple and soft

Balances skin pH

Removes dirt, oil, and impurities from the skin
Features: Super Hyaluronic acid
7. Hada Labo Mild & Sensitive Face Wash 100G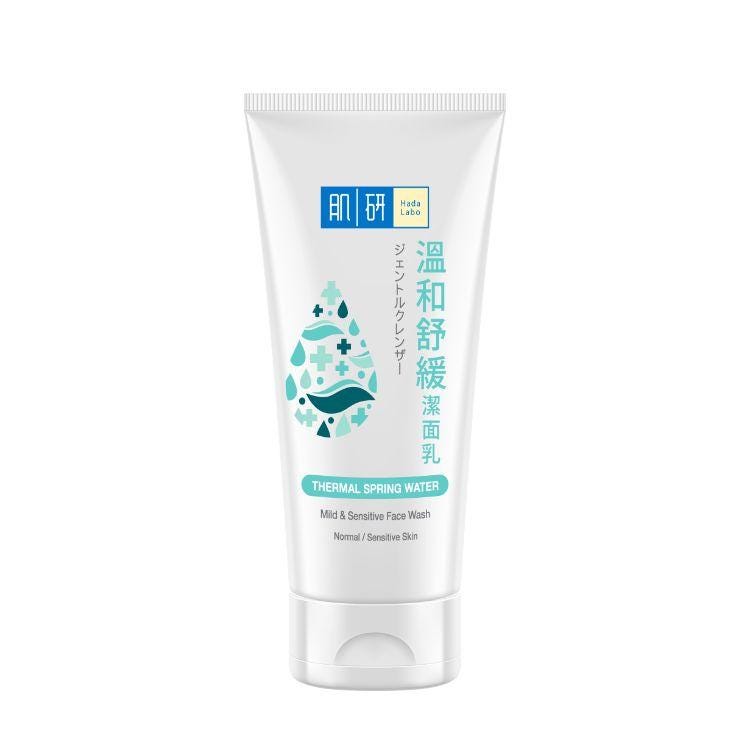 Texture: a Hada Labo cleansing foam with a mild and creamy foam texture
Skin concern: Suitable for sensitive skin 
Benefits:
Hydrates sensitive skin

Soothes skin allergy

Relieves skin irritation and redness

Protects the skin from aging signs

Cleans out the pores

Controls oil on the skin

Restores smoother and softer skin
Features: Hyaluronic acid
8. Hada Labo Hydra & Whitening Face Wash (100g)
Texture: rich texture facewash

Skin concern: Suitable for sensitive skin 
Benefits:
Replenishes skin with minerals and vitamins

Hydrates the skin
Features:
Hyaluronic acid

Seaweed extract
Tips: After rinsing off, follow up with a toner. 
9. Hada Labo Super Hyaluronic Acid Hydrating Face Wash (100g)
Texture: ultra-fine foam
Skin concern:
Suitable for sensitive skin

Low irritation 
Benefits:
Washes off impurities, oils, and diets without drying the skin

Hydrates and cleanses the skin

Balances skin pH

Retain moisture within the skin
Features:
Super Hyaluronic Acid

Absorbent Hyaluronic Acid 
10. Hada Labo Premium Whitening Face Wash (100g) Texture: light texture fash wash

Skin concerns: Suitable for sensitive skin
Benefits:
It has a double Whitening effect

Balances the pH of the skin

Hydrates the skin intensely

Evens out the skin

Restores polish to a dull skin

Removes impurities from pores
Features:
Super Hyaluronic Acid

Arbutin

Plants extracts
What To Look For In A Face Wash
The Major factor that affects the choice of the face wash is your skin type. And here's what the different skin types should look out for when choosing a facial cleanser:
For the Oily skin
A face cleanser with ingredients such as glycolic acid, salicylic acid, and benzoyl peroxide that would help remove excess oil from the skin is the surest bet. They also work well in combating acne, whiteheads, pimples, and blackheads.
For The Normal Skin
Normal skin facial cleansers should contain salicylic acid, retinol, chemical exfoliants, and vitamin c. They increase the skin's hydration, softens the skin, and encourages skin cell turnover to aid healthy skin.
For The Dry Skin
A cleanser for dry skin should be able to hydrate and moisturize the skin properly. They often contain ceramides, Hyaluronic Acid, natural oils like jojoba and avocado, and lactic acid. Thus, products for oily skin should be avoided.
For The Sensitive or Combination Skin
The sensitive and combination skin types should go for cleansers that are ultra-gentle. Their ingredients include Hyaluronic and super Hyaluronic acid, as seen in the Hada Labo cleanser reviews above. Also, they should be fragrance-free, paraben-free, hypoallergenic, and soap-free to avoid skin irritation.
Conclusion
Facial cleansers are often a part of the significant skincare products people should have and ensure that they get quality ones that match their skin types.
In more ways than one, people with sensitive skin have often experienced difficulty finding the right skincare products for their skin.
Still, Hada Labo facial cleansers have got all the products reviewed above in their favor.
Also, while you're purchasing products for your skincare routine, be sure they are from respectable companies.
We say this because that way, you know you're buying products with the right ingredients and in the proper proportions. Hada Labo is undoubtedly the place to go.
However, if you still need help choosing a skincare product for any type of skin, be sure to reach out to ipharmaHome, the trusted online pharmacy online Malaysia.
We are available and willing to offer our expertise on all things health. Contact us today.
Frequently Asked Questions on Hada Labo Products

How do you use Hada Labo premium whitening face wash?
Use the Hada Labo lotion just after exfoliating or cleansing. A small amount-like a coin is enough to achieve the desired result. Always apply with your hands and pat your face while at it. It isn't right to use a cotton bud or pad for application. 
Do I use HADA LABO Lotion after face wash?
The Hada Labo lotion can be used after a face wash or cleanser because it often serves as a toner and has the same liquid consistency. But its work is different from that of toners.
The lotion softens and moisturizes the skin with intesive care product to prepare it for the next steps. 
Can I use HADA LABO face wash if my skin is oily or pimple-prone?
Every type of skin is welcome to use Hada Labo Skincare products. They don't add to the clogged pores as they do not contain mineral oils and Goku-jyun lotion.
The super Hyaluronic Acid in Hada Labo Products is a moisturizing agent that can help oily skin. Start with a routine that involves the Hada Labo face wash, lotion, and milk.

These ten products are all great and are excellent to keep you clean. The choice of which one to use is up to you. But regardless of which of products catches your fancy, we promise you'll enjoy it!
You'll marvel at how much it improves your skin and makes you feel good!
Discover more Hada Labo Products here